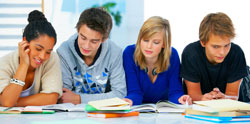 East Stroudsburg University is a comprehensive university in northeastern Pennsylvania offering 58 undergraduate and 22 graduate degrees.
East Stroudsburg University (ESU) combines personalized teaching and real world experience to help students learn the skills and knowledge that employers and graduate schools require.
Students at ESU can choose from 68 undergraduate programs and 20 graduate degree programs.
Every student at East Stroudsburg University is encouraged to do at least one internship, field study, or community service project to get a hands-on feel for the careers their major may lead to.
ESU classes incorporate the latest equipment and a philosophy of interactive, real-world work and innovative teaching.