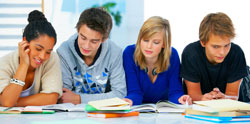 East Stroudsburg University
East Stroudsburg University is a comprehensive university in northeastern Pennsylvania offering 58 undergraduate programs, 21 master's programs and 2 doctoral programs.
ESU is one of the 14 institutions in the Pennsylvania State System of Higher Education.
The University has 67 buildings located on 258 acres in the East Stroudsburg Borough and in Smithfield Township which include academic facilities, 6 residence halls (housing over 1600 students), a 1,000-seat dining hall, a student center and a recreation center. The Student Activity Association, Inc., owns Stony Acres, a 119-acre off-campus student recreation area near Marshalls Creek, that includes a lodge and a small lake.
East Stroudsburg Normal School opened its doors on September 4, 1893. Although the Normal School was originally privately owned, ownership was transferred to the Commonwealth of Pennsylvania in 1920, and the name was changed to East Stroudsburg State Normal School.
East Stroudsburg University of Pennsylvania will provide:
Challenging and contemporary undergraduate and graduate curricula that engage and equip students to critically appraise and apply knowledge in their lives and chosen fields of study.
A scholarly community that promotes diversity and views teaching as the university's primary focus.
Varied opportunities for student and faculty research, creative endeavors and involvement in public service.
Leadership and service in the educational, cultural and economic development of the region.
Accommodation
We offer nine residential facilities on campus. Our on campus, we offertraditional housing, suite-style housing, and apartments, in a variety of single-gender and co-ed options.
The University Apartments and University Ridge are reserved for upper-class students. Within our residence hall structure we offer special interest living communities.